Presentations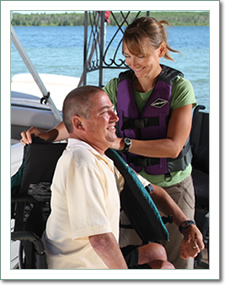 See Bernie and Sheila in person!
Bernie Inman: Awarded the prestigioius 'Presenters Award' 2002 PIASS as voted on by the conference attendees.
Bernie and Sheila are a dynamic, unforgettable TEAM. Whether they are sharing their story about the critical importance of awareness and safety in the workplace, or the moving journey of their life after injury, audiences will be engaged.
Book The Inman's to speak at your next SAFETY or CORPORATE event.


To book a presentation:

Call: (780) 812-2787 or
Email: bernie@bernieinman.com
sheila@bernieinman.com
SAFETY
A safety presentation by Bernie and Sheila Inman is unique and unforgettable.
Their simple, personal style profoundly engages every audience and brings home the reality of the consequences of a major injury incident. Their message is candid and honest, and includes discussion of the ripple effect – the impact of the incident on the lives of so many others including his wife, Sheila, and their family. Sheila's contribution to the presentation easily sets this dynamic duo apart from other speakers.

MOTIVATIONAL

How do you rebuild a life when you're not sure it's worth living anymore? Who can you count on for support when the going becomes beyond rough?

Bernie and Sheila share their experience of the day that changed their lives: how they coped with the initial chilling reality, how they moved forward to reclaim their life dreams, and how those dreams are being realized today.

It's an uplifting story of overcoming unimaginable odds.

A presentation by Bernie and Sheila Inman will, quite simply, change the way you think about your life.